Omna Sreeni-Ong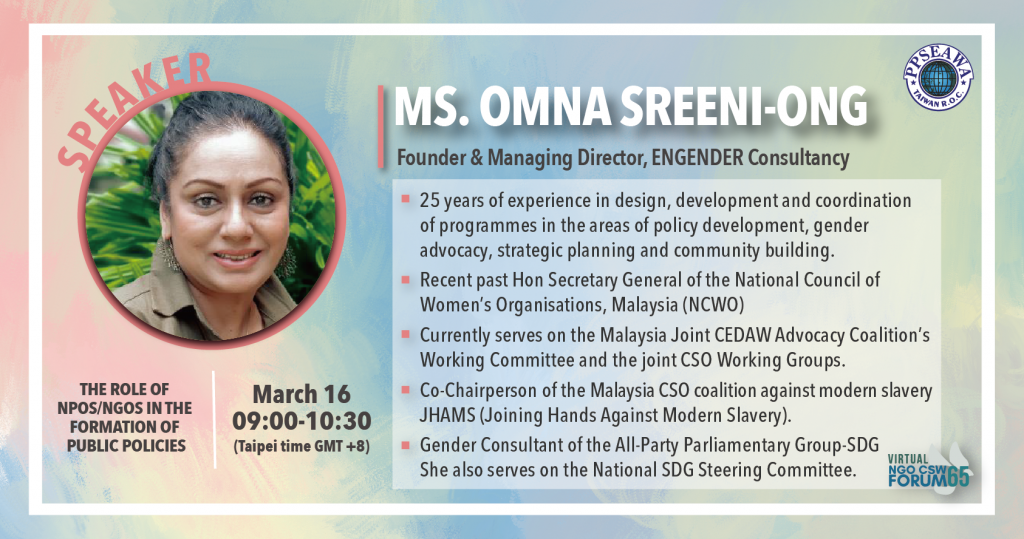 Omna Sreeni-Ong is the founder and managing director of ENGENDER consultancy which is committed to advancing gender equality and the empowerment. Her work mainly focuses in Malaysia. She has worked in many other fields internationally and has a lot of experience which she implements in her work as an advocate. Mandy Chen introduced Omna's topic on the movement advocating for legislative policy reform and institutionalized government CSO partnership and other challenges. Ms. Omni began sharing her experience of Malaysian NPOs and NGOs regarding shaping public policy in the context of advancing gender equality. Ms Omna Sreeni-Ong introduced the story of her ongoing journey of women's movements from 1960 to date. She highlighted how the road is not straight or linear and the path has its ups and downs. Ms. Omni shared how she thinks it is important to revisit one's path to keep values and goals aligned and to see the improvement that has been made throughout.
The call for women's rights began before the 1960s, around the early 1930's with women who resisted prosecution. The 1960's saw the emergence of women's issues in Malaysia. PPSEAWA was a part of the women's movement from the early days and also played a major role in the forming of the coalition. The ripple effect began when three women were elected a part of the parliament, this forced the recognition of women's role in society and government. Legislative changes were advocated for and success was reached in areas of marriage and divorce, taxation, land and inheritance rights, violence against women, custody and guardianship. Raising awareness allowed for legislators and policy makers to engage with these topics. All of these changes were possible thanks to a group of eight women, which Ms Omna Sreeni-Ong accentuated during her presentation to show it doesn't take much to inspire change.
Work internationally also had a big impact in things like the formation of the Asian confederation of women's organizations and also the Asian committee of women. The UN women's conference brought upon many changed for women including reforms on seven major legislations including rape and molestation, domestic violence, custody, property rights, labor and tax laws, and social security. The national women's coalitions were instrumental in women development through the ministry and other institutions that allowed for policies to be made. Gender responsive budgeting has also been discussed since 1981. The discussions have then had aided the budget cycle in 2021.
Ms Omna Sreeni-Ong also discussed the implementation of CEDAW in Malaysia. CEDAW is the bill of rights for women. There has been a lot of progress made from 1985 until now to push CEDAW into legislation and policy making, still, it has been an ongoing journey. Another exciting area that Ms. Omni mentioned is supporting parliamentary oversight by joining through questions, monitoring, briefing, and supporting special committees. Women's joint collaborative efforts include law reform, parliamentary engagement, CEDAW advocacy and monitoring state accountability, gender responsive budgeting, SDG implementation, and sexual harassment in public places. During such a long journey challenges will present themselves, as Ms. Omni touches upon, but in order to overcome these challenges they must be acknowledged first. The pandemic brought inequalities forwards and brought new challenges with it, but it also provided the opportunity to define a new normal.