Omna Sreeni-Ong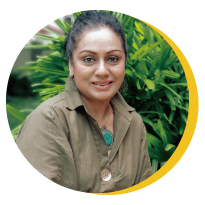 Omna Sreeni-Ong is the founder and managing director of ENGENDER consultancy which is committed to advancing gender equality and women's empowerment. She has been granted many awards and has had 25 years of experience on the designing of programs. Ms. Omna's topics for the day, the importance of investing in gender equality, a short description of the journey Malaysia has had and their work with CSOs and NPOs, and her organization ENGENDER.
Mrs. Omna shared her thoughts and experience on investing in gender equality. Mrs. Omna spoke about the importance that women empowerment will have in the future of humanity and how equality should be at the core of all the efforts regarding the matter. To begin, Mrs. Omna Sreeni-Ong highlighted the importance of being on the same page when talking about gender equality and how it is defined. Gender equality is the enjoyment of the same opportunities, rights, and obligations between men and women. It is important to recognize diversity and appreciate it. According to Mrs. Omna we are able to see the gender equality in the outcomes in which there is equality even amongst diversity. Even though there have been many changes for the better, systemic challenges are still present, especially during the pandemic. The impact of the pandemic has taken a toll on progress made towards gender equality. The pandemic brought with it loss of jobs and reduced working hours, spike in domestic intimate partner gender-based violence, unpaid care and domestic work, emotional impact, and the absence of women from decision making spaces. Inclusive and peaceful societies remain out of reach and according to Mrs. Omna, society can more easily be shaped when women are protected from violence and given decision-making positions. It is a long and winding journey until success. Mrs. Omna told the ongoing journey of Malaysia and gender equality began as early as 1960. The road has not been easy or linear, but a reflection is necessary to keep everyone on track and realize what needs to be done to achieve gender equality. The call for women's rights began in the 1930s or 1940s with women who were even jailed for defending their rights. The 1960s saw the emergence of the women's rights movement in Malaysia. The ripple effect began in 1959 when three women were elected as part of the parliament. From then on women came to power positions and decision making was on their favor more regularly. By the year 2000 there were several law reforms that protected women from issues such as rape, domestic violence, inheritance and property rights, labor law, income security, among others. The evolution of this advocacy process strengthened the level of achievement. It was not easy but with more and more changes there is an increase in what is believed to be possible. The United Nations were also participants of the fight for gender equality in Malaysia. Many women's organizations applied what they had learned and helped Malaysia achieve change in favor of women. Gender equality was able to be institutionalized through the National Advisory Council on Women Development (NCW), the Department of Women Affairs, and the Ministry of Women, Family and Community Development. The NCW provided key information and recommendations to the government which raised gender concerns and helped push for gender equality. Women's organizations have been appointed to participate actively as high-level consultants in many decision-making spaces including the National SDG Steering Committee, the Domestic Violence Task Force, and many government delegations to international and regional meetings amongst others. Even though there have been many changes for the better there is still a long way to go. Meeting the gender equality agenda required transformative shifts, integrated approaches and new solutions. At the current rate gender equality might be reached in two generations.
How can we use innovative ways to close the gap? How do we design solutions? Mrs. Omni posed these questions and more to the audience. ENGENDER consultancy was set up with the answer to these questions in mind. As a social enterprise focused on advancing gender equality and transforming communities. Mrs. Omni saw the importance of engendering people, meaning introducing people, policies, and processes to the importance of gender equality. ENGENDER, like the hummingbird, reached deep into a blossom to source its nectar and endeavor to reach the root of the issues, to read realities and uncover core concerns. ENGENDER specializes on several areas such as gender-based analysis, where policies and programs affect different groups of people differently. By doing this, issues can be faced with a more personalized approach. Another area of specialization is strategic advocacy planning is a key driver in accelerating gender equality and the inclusion of vulnerable communities. Monitoring and evaluations highlights the importance of measuring the transformative impact of policies, projects, and programs on communities requires diligent monitoring and evaluation. Deepening the gender equality discourse which concerns all of society – men and women. ENGENDER offer the 360-consultancy program, a holistic and systematic approach in co creating transformative and sustainable solutions by their team experts. This program faces issues such as sexual harassment, disability-confident employer, engendering corporate social responsibility CSR, child protection, and equality at schools. ENGENDER also draws on the experience of communities to develop transformative and sustainable solutions. One of ENGENDER's friendship programs is the SafeCity campaign, an initiative that aims to create safe and empowering public spaces free from sexual harassment through the development of locally-owned evidence-based initiatives to end violence against women and girls and support women's socio-economic participation. Their other friendship program is their CSO led parallel Gender Responsive Budget Cycle which recognizes all economic contributions made by all members this ensures the government can ensure equitable distribution of benefits especially when it comes to minorities. ENGENDER also works with SDGs and approaches all projects from a human rights perspective. SDGs are an accelerating catalyst. Another project ENGENDER is working on is WanitaBoleh which works as a one-stop information portal for women, as women lack resources to get their information from. ENGENDER also works with legislators to overcome challenges. Mrs. Omna Sreeni-Ong concluded her presentation with empowering words towards the work of gender equality.