Dr. Fen-Ling Chen 陳芬苓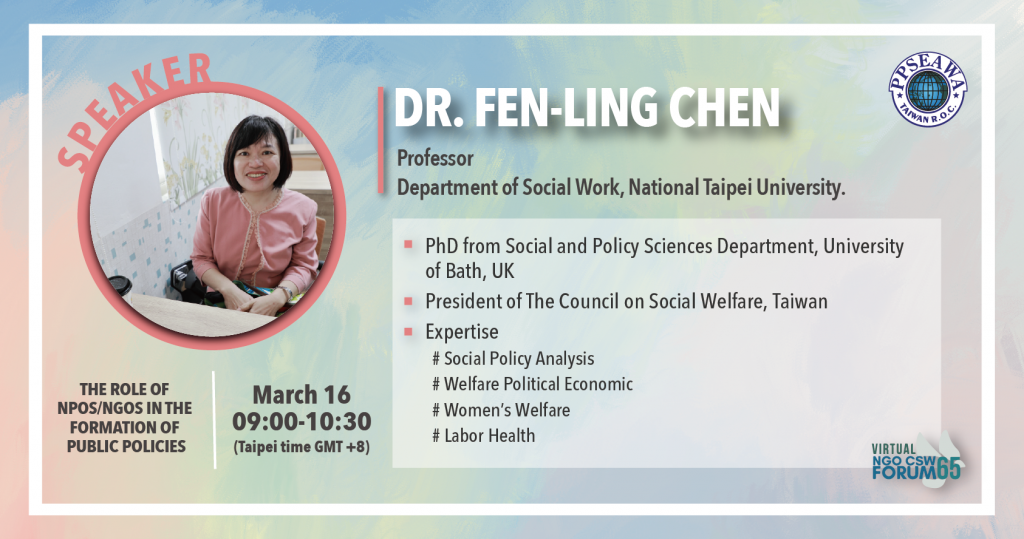 Dr. Chen spoke about NGOs in Taiwan and the changes that have been implemented thanks to them. One of the major achievements during the 1980s until the 2020s has been regarding the amendment of civil code. This has allowed for change in the patriarchy family systems, residency, marriage rights, and other topics regarding gender equality in families. Another achievement that Dr. Chen spoke about was to the gender equality law which was promoted by the people instead of the government. Violence against women is an important policy as Taiwan was one of the first countries to pass a domestic violence prevention law and prevention centers. These centers include different departments that work together to protect women's rights. Taiwan is also the first country in Asia to legalize same-sex marriage. Dr. Chen also mentions how Taiwan is not a part of the UN, which is challenging when trying to keep up with changes made in international policy.
        Dr. Chen also talks about gender mainstreaming in Taiwan which began as a department in central government in the 1990s. Although there have been many improvements there are still many things left to do. Dr. Chen ended her presentation with a picture of the presidents of Taiwan colleges in which we could see a clear lack of women.