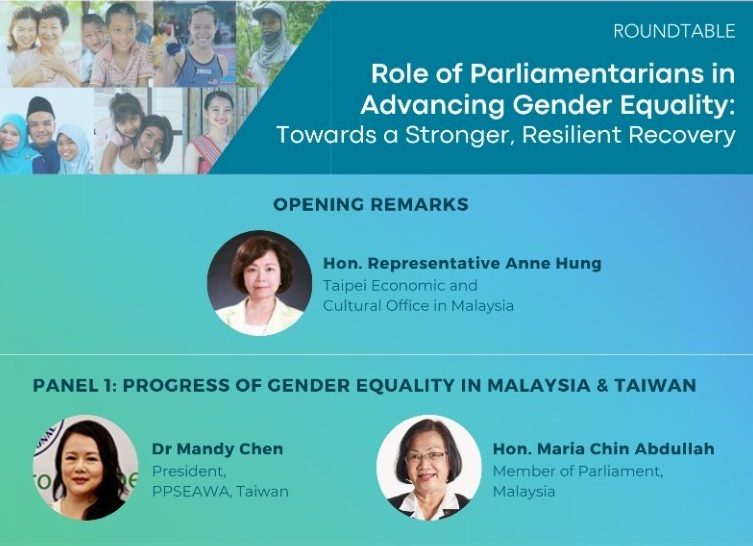 線上論壇 | 議員在促進性別平等中的作用
Online Forum | Role of parliamentarians in Advancing Gender Equality: Towards a Stronger, Resilient Recovery
會議資訊 Information
▶ 日期 Date:2021.10.15 (Fri.)
▶ 時間 Time: 10:30 AM – 12:15 PM
▶ 線上論壇 Online Froum (ZOOM)
* For further information, please contact: info@engend erconsultancy.org
Time
Programme
10:30
Welcome and Introduction by Omna Sreeni-Ong
10:35
Opening Remarks by Hon. Representative Anne Hung
10:45
Panel 1: Progress of Gender Equality in Taiwan and Malaysia

◆ Dr Mandy Chen
President, PPSEAWA, Taiwan
◆ Hon. Maria Chin Abdullah
Member of Parliament Malaysia
11:05
Q&A with Panel 1
11:20
Panel 2: Gender Sensitive Parliament Initiatives

◆ Hon. Liu Shyh-Fang
Legislator, Taiwan Legislative Yuan
◆ Yu Mei-Nu
Lawyer & Former Legislator
◆ Hon. Dato' Sri Rohani Abdul Karim
Member of Parliament, Malaysia
11:50
Q&A with Panel 2
12:05
Summary and Wrap-Up by Omna Sreeni-Ong
12:15
End of Programme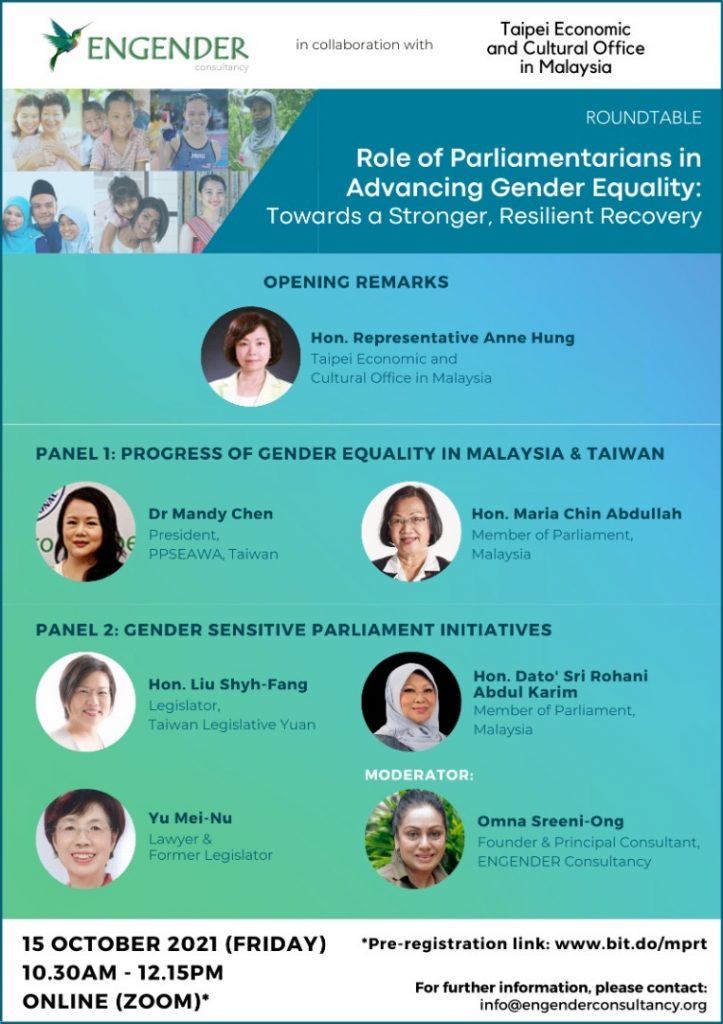 ---
講師資訊 SPEAKER PROFILES
PANEL 1: Progress of Gender Equality in Taiwan and Malaysia

◆ Dr Mandy Chen
President, PPSEAWA, Taiwan
Dr. Mandy Chen is the President of the Pan Pacific and Southeast Asian Women's Association (PPSEAWA Taiwan). She is a medical doctor with extensive experience in multiple medical institutions in the United States. A long service advocate for gender equality and women's empowerment, Dr. Chen's work in PPSEWA focuses on the implementation of the SDGs through the promotion of gender equality in the areas of women's health and well-being, high- quality education and women's economic empowerment. As President, she actively engages PPSEAWA Taiwan with other NGOs at UN and other international platforms. to discuss issues and cooperation. Dr Chen is a strong advocate of the civil society movement which she believed can better implement the SDGs and facilitate positive development in society.
---
◆ Hon. Maria Chin Abdullah
Member of Parliament, Malaysia
Hon. Maria Chin Abdullah is a Member of Parliament in Malaysia. She is also the Deputy Chair of the All Party Parliamentary Group, Malaysia – SDGs (APPGM-SDGs) and a member of the Parliamentary Caucus on Reform and Governance.
A women's rights activist with more than 30 years experience, she continues to play a key role advocating for gender equality. Her work is grounded within the realities of marginalised communities, low-income women and indigenous communities. A strong advocate for women's political participation, electoral and institutional reform, she led the Bersih 4 & 5 rallies for free and fair elections. Just before Bersih 5 rally, Maria was detained without trial under Security Offences (Special Measures) Act 2012 (SOSMA) for 11 days in solitary confinement.
PANEL 2: Gender Sensitive Parliament Initiatives


◆ Yu Mei-Nu
Lawyer and Former Legislator, Taiwan
Mei-Nu Yu, a human rights lawyer and a former legislator, has been engaged in the women's movement for more than 30 years and has spared no effort to improve the status of women in Taiwan. She was elected as a legislator-at-large of the DPP from 2012 to 2020, serving as a convener of the Judicial and Legal Affairs Committee, and passed many bills on transitional justice, judicial reform, prison reform, and human rights protection, She was awarded the French Legion of Honour in 2020 for her long-term defense of human rights and promotion of gender equality.
---
◆ Hon. Liu Shyh-Fang
Legislator, Taiwan Legislative Yuan
Hon. Liu Shyh-Fang is a Legislator in Taiwan's Legislative Yuan having served in the fifth, ninth and currently in the Tenth term. She is also the Chair of Digital Information and Governance Innovation Association of the Legislative Yuan. She has held several distinguished roles in government including as the Deputy Mayor of Kaohsiung City Government, the Deputy Secretary General of the National Security Council, the Deputy Secretary General of the Office of the President, the Secretary General of the Executive Yuan. Before her service in Government, Hon. Liu Shyh-Fang was a Deputy Magistrate of Taichung County. She also served as the Managing Director of the World Games 2009 Kaohsiung Organising Committee.
---
◆ Hon. Dato' Sri Rohani Abdul Karim
Member of Parliament, Malaysia
Hon. Rohani Abdul Karim is a long serving Member of Parliament for over 31 years. She served as Deputy Minister of Agriculture and Food Industries and later as the Deputy Minister of Domestic Trade, Cooperatives and Consumer Affairs. In 2013 Hon Rohani Abdul Karim was appointed Minister of Women, Family and Community Development which she helmed for five years. She is active in several international and national parliamentary roles as a member of the Inter Parliamentary Union, Asian Forum Of Parliamentarians On Population And Development (AFPPD), Commonwealth Parliamentary Association (CPA), Steering Committee of the ASEAN Inter Parliamentary Association (AIPA) and the Women's Parliamentary Caucus. Since 2020, Hon Rohani is the Chairperson of the All-Party Parliamentary Group-SDG Malaysia.