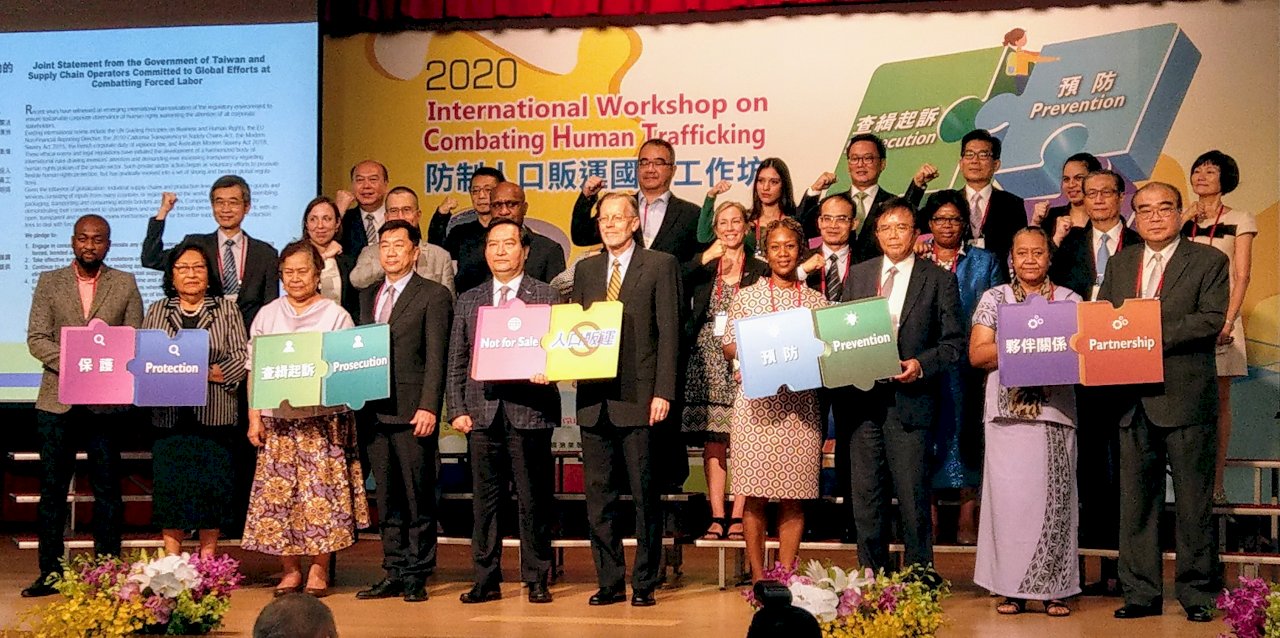 2020年防制人口販運國際工作坊
2020 International Workshop on Combating Human Trafficking
時間Date:2020.09.01
地點Venue:張榮發基金會國際會議中心Evergreen International Convention Center
本會崔穗英常務監事與副秘書長代表出席2020年9月1日由內政部移民署舉辦「2020年防制人口販運國際工作坊」。會議開幕式,政府代表行政院政務委員羅秉成、內政部政務次長陳宗彥、美國在台協會(AIT)處長酈英傑及台灣虎航等多家業者共同出席,聯手宣誓打擊強迫勞動,並簽署「反奴宣言」。
On September 1st, 2020, Deputy Secretary-General and Ms. Lucia Tsai, Executive Supervisor of PPSEAWA Taiwan attended the "2020 International Workshop on Combating Human Trafficking" hosted by the National Immigration Agency, Ministry of the Interior. During the opening ceremony, government representatives cosigned the "Anti-Slavery Declaration" aiming to combat "unfree labor". These included LO Ping-Cheng, Minister without Portfolio, Executive Yuan; CHEN Tsung-Yen, Deputy Minister of Ministry of the Interior, AIT Director Brent Christensen, as well as representatives of Tigerair Taiwan and other businesses.
今年工作坊活動探討主題包括有「防制人口販運之整體策略」、「被害人安全與新生」、「防杜勞力剝削新主角-企業社會責任」及「重要國家防制人口販運挑戰與突破」等4大面向。
The main themes of the workshop this year incorporate the "Overall Strategy of combating Human Trafficking", "The international trend in human Trafficking prosecution", "Victim protection mechanism", and "Human trafficking investigation and prosecution" as well as major case studies.
我國已連續11年獲評為防制人口販運成效第一級的國家,主辦單位強調,一個國家的經濟有實力,人權也要有實力,希望有一天台灣最美的風景是人權,這才是台灣要追求的目標。
Our government continues to demonstrate serious and sustained efforts; therefore, for the last 11 consecutive years Taiwan has remained on Tier 1 in the Trafficking in Persons Report released by the U.S. We are confident that along with our ample economic power we will also exceed in human rights advocacy. We hope that one day human rights protection becomes one of the most admirable characteristics that represent Taiwan.