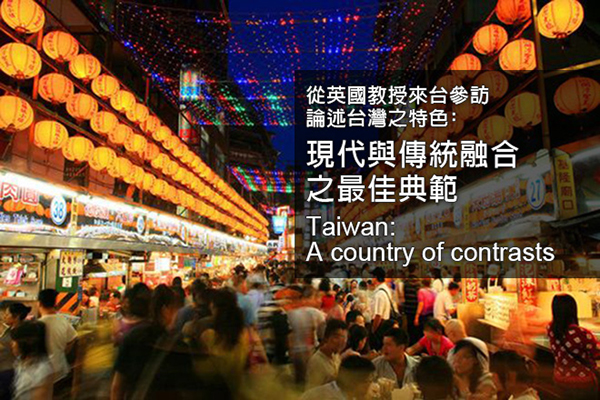 從英國教授來台參訪論述台灣之特色:現代與傳統融合之最佳典範
Taiwan: A country of contrasts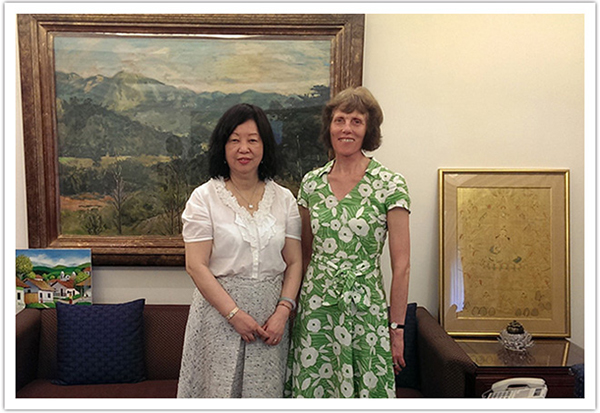 我是Beverly Wagner博士,我在蘇格蘭及英國的史翠斯克萊大學商學院行銷學系中擔任資深講師(Reader)。我在103年6月1日至6月7日來台灣的旅程中,應中華民國工商婦女協會陳碧娥理事長(Barbara Chen)及紫丁香婦幼關懷協會陳淑珠理事長(Regina Chen)之邀請,寫下這篇我對台灣感覺的短文供大家參考。

My name is Dr Beverly Wagner, Reader in the Department of Marketing, Strathclyde Business School University of Strathclyde, Scotland and United Kingdom. I have been invited to write this short piece by Barbara and Regina Chen, Presidents of the Taipei Enterprises Women's Association whom I met during a recent trip to Taiwan.
---
此次我很榮幸的受到國立中興大學行銷學系的李宗儒(濬紳)教授和南臺科技大學行銷及物流管理系的蔡雅玲(芝妤)博士(雅玲是我之前在英國的博士生)之邀請來台,事實上本人從2009年起便來台進行數次的年度參訪。
在這數次的參訪中我有向台灣的大學生及研究生針對不同行銷相關主題進行授課,參加研討會、進行主要演說以及和李宗儒教授一起做研究。
在這些參訪中有三個特點,第一個為參觀台灣政府為幫助中小企業發展所推行的計畫ICT747。第二跟李教授一起參觀台灣的中小企業,像是蜂蜜生產商、芒果生產者、傳統結婚蛋糕的製造商、木瓜果汁生產商、漁產品生產者還有保健產品廠商等等。第三個特點為與農委會農糧署負責茶葉政策的政府官員見面,討論與茶產業有關的政策並了解台灣對茶產業未來研究的方向。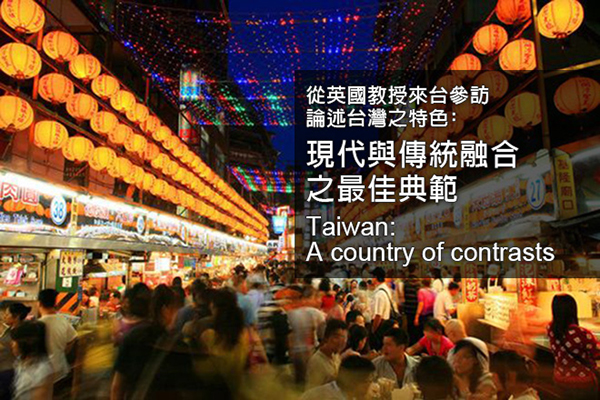 接著我要介紹一些特別的參訪經驗來說明為什麼我很高興能被邀請來台灣。
比如這次來台,抵達當天我就和李教授還有葉老闆見面,葉老闆是我第一次來台灣就認識的朋友,他在台北有一間水晶行。我們三人一起到葉老闆的水晶行去坐坐,儘管我們語言不通,但還是能感受到他的熱情款待。這邊跟我第一次來的時候改變不大,我們在店裡邊喝香菇茶邊聊天,之後到一間小餐館,品嘗好吃的壽司及當地美食。
台灣人特別對吃的東西很有熱忱,不管哪裡有小吃,那邊一定有著一群人。台灣的食物真的很棒、健康又好吃,食物不但新鮮而且是當地生產的。不像在西方社會中食物從製造到消費之間通路成員數量很多,必須通過批發商、零售商等等,最後才會到消費者手裡,這樣子人們根本不清楚自己吃下的東西成分、內容物有什麼,在這方面我認為台灣做的很好。不過我也發現到處都能看到麥當勞的M招牌,我希望台灣政府能夠限制這些西方速食連鎖店的數量,相反的多鼓勵當地小吃或店家的經營。要注意西方人糖尿病及肥胖等健康問題,都跟速食及高糖分的吸收有關。
隔天,我搭高鐵到台南與蔡雅玲博士見面。在到南台科技大學進行演講及研討會之前,雅玲替我安排到一間企業進行參訪。這又是另一個面向的台灣了,可以這麼輕鬆的跟企業接洽,他們很樂意提供資訊,介紹產品、生產流程及策略。台灣的企業與學術單位緊密的結合創造出高水準的社會。這樣不僅能促進知識交流並把複雜的社會資本嵌入了企業與大學網絡之中。企業和學校之間互相信任、尊重,並且樂意參與學術活動,在國際研究合作能討論出豐富的結果。
這星期剩下幾天都在台中區域參觀茶園,雖然語言不通,但是台灣人都很熱情(不過我答應李教授下次我來台灣時會學一些中文),這次的參觀很明顯可以感受到每個茶農談到自家茶的生產製造過程時都很有熱忱,茶的收成要經過很長的一段時間,要考慮到天氣、生產步驟、品質還有其他改善產品的因素。有各種不同的試喝,從綠茶到古老陳年的茶都要分辨出其中細微的差別,分辨這是在哪一種溫度下發酵而成的或者是哪個產區的茶。當天吃飯時我們的話題也一直環繞在如何讓當地食物呈現出好品質,而茶的議題也可以持續好幾個小時。
從學術方面來看,這次的參訪收穫良多,到了台灣我發現台灣不斷的在改變越來越趨向現代化。每次的參訪我都看見巨大的改變,道路的建設與開拓,巨大特定的住宅區與商店被新的道路跟現代建築所取代。台灣就是一個很好的例子,一方面高度創新,接受高科技產業所帶來的快速發展,另一方面致力於保存傳統的文化以及當地生活的方式。老舊的小店面販售當地食物給從年輕學生到上班族的廣大客群,雖然可能被在一旁高大的21世紀公司建築給掩蓋了。
要深度理解的是,我們必須抓住台灣的文化,去保留台灣的民族性以及對這進步快速的社會的歸屬感。透過社會運動來捕捉不同的文化遺產和歷史放入博物館需要付出很多的努力,除此之外,我們也需要加強對台灣特色小吃、當地文化及生活方式的保存。
台灣是一個很美好的地方,這裡的人都很有禮貌也很友善,隨時都願意幫忙,台灣人很勤勞、沉著也很客氣。雖然這邊的城市被一大群的摩托車所淹沒,但還是很有效率在運作著。儘管舊有的傳統為現代的社會開啟了新的道路,我仍希望原來的傳統不會完全被現代化給犧牲掉,希望台灣未來在向前邁進,開發這片土地的同時,也能保留原始的自然及文化。
Since 2009 I have had the honour of being invited to annually visit Taiwan by Professor Lee Tzong-Ru (Jiun-Shen), Professor of Marketing, National Chung Hsing University and Dr. Rebecca Tsai, Department of Marketing and Logistics Management, Southern Taiwan University of Science and Technology (Rebecca was my Ph.D. student in the UK). My academic visits have been funded by the Ministry of Technology and Science.
During these visits I give lectures to undergraduate and postgraduate students on various marketing related topics, attend conferences and present keynote speeches such as "A sustainable business cycles and empirical example" at the Overseas Chinese University, International Conference on Ethics and Corporate Social Responsibility. This is as well as planning and writing academic articles and developing research projects with Professor Lee.
A very important aspect of these visits was to meet company executives and I travelled with Professor Lee the length of Taiwan visiting SME businesses, such as honey producers, mango growers, traditional wedding cake manufacturers, papaya juice producers, fish product producers and health products manufacturers. Many of these businesses are part of a Taiwan wide, government funded project, ICT747, the purpose of which is to develop SMEs by providing expert management advice on marketing, growth, and internationalisation strategies. This year, (2014) we met with tea farmers and tea co-operatives as well as executives from the Agriculture & Food Agency Council to discuss the Ministry's Policy for Tea production and to identify areas of future research.
The following is an account of a typical visit and an attempt to capture why I appreciate being invited to Taiwan. On arrival I am met by Professor Lee and our first stop is to Mr Yeh's crystal shop in Taipei. I have known Mr Yeh since my fist visit and despite a language barrier, the warm welcome is evident. Nothing changes here, in the clutter of crystal ornaments Mr Yeh offers us his famous mushroom tea. The shop is always busy with the coming and going of family and friends, everyone drinks tea and the discussion varies from current affairs to ancient Chinese herbal remedies. We are then taken down the street to an unobtrusive restaurant to be served the most wonderful sushi and a constant stream of dishes laden with local delicacies.
Taiwanese are particularly passionate about eating and wherever there is a crowd of people there are street vendors selling food. Taiwanese food is wonderful, healthy and delicious; it is fresh and produced locally. Untainted so far from the mass produced food consumed in most Western societies where the distance between production and consumption is so great that people no longer know what goes into the food they eat. However, I do see the ubiquitous "M" logo creeping into the towns and it is my hope that the government limits these western fast food outlets and encourages franchising many local food vendors whose business models are well suited for replication. Take note of the Western health issues related to diabetes and obesity, due to fast food and high sugar consumption.
The following day, I travel on the high speed railway down to Tainan where I meet Dr. Rebecca Tsai. Rebecca has arranged a company visit prior to the lecture and workshop at the Southern Taiwan University in the afternoon. This is another aspect of Taiwan, where it is so easy to gain access to companies; there is a willingness to share information, explain products, production processes and strategies. The close link between Taiwanese companies and the academic community creates highly developed knowledge communities. This facilitates free knowledge exchange and sophisticated social capital embedded within the company and university networks. There is trust and respect between business and academe and willingness to engage with academics makes for fruitful discussions that may result in international research collaboration.
The remainder of the week was spent visiting tea farms around the Taichung area. Once again, language is no barrier (I have promised Professor Lee that I will learn some Chinese for my next visit) and it is clear that each small farmer is passionate about the tea he produces and discussions are lengthy with regards to weather conditions, production processes, quality and anything related to product improvement. Tasting takes place from green tea to vintage aged tea and we are given detailed explanations regarding the nuances of each type in terms of degrees of fermentation and also the location on the mountain. Of course we always eat in local restaurants, where conversations continue and local food appears in quantity; tea conversations can last for hours.
Although these visits are very fruitful from an academic perspective, since coming to Taiwan I have seen the country change in terms of modernisation. On each visit I see more dramatic changes, much construction and reclamation of land as large sections of housing and shops make way for new roads and modern buildings. The country is one of contrasts, highly innovative, embracing rapid development and domination by technology industries on the one hand, while trying to keep hold of traditional local cultures and ways of life on the other. Old shanty style shops, serving local food to a wide demographic of people from young students to businessmen, are tucked away beside large, 21st century company buildings.
There is a deep understanding of the need to hold onto Taiwanese culture, to maintain national identity and a sense of place in this rapidly advancing society. There are many efforts to capture heritage and history in museums and through community activities as well as reinforcing local food and its roots in Taiwanese culture and social life.
Taiwan is a wonderful place; people are so friendly and courteous, always ready to help, they are industrious, calm and polite. The cities are efficient despite the swarms of Vespas racing around. However, as the old makes way for the new, I hope that tradition is not entirely sacrificed for modernity and that Taiwan can retain some of its unspoiled nature and culture within these refashioned landscapes.